What are the details of this project?
We are raising 10 ETH in exchange for $CLIMATE tokens. Owning 100 $CLIMATE (equivalent to .1 ETH) will be a prerequisite for entry into ClimateDAO. Holders of $CLIMATE tokens will also be eligible for a set of URL and IRL perks, including speaking events with leaders in the Climate Action space. $CLIMATE token holders will also have privileged access to utility tokens on ClimateDAO's platform (pending regulatory approval).
Our Model
Pooling capital from investors will allow ClimateDAO's members to have a seat at the table in shareholder meetings and influence companies' strategies via proxy voting, shareholder proposals, and engaging members of the board.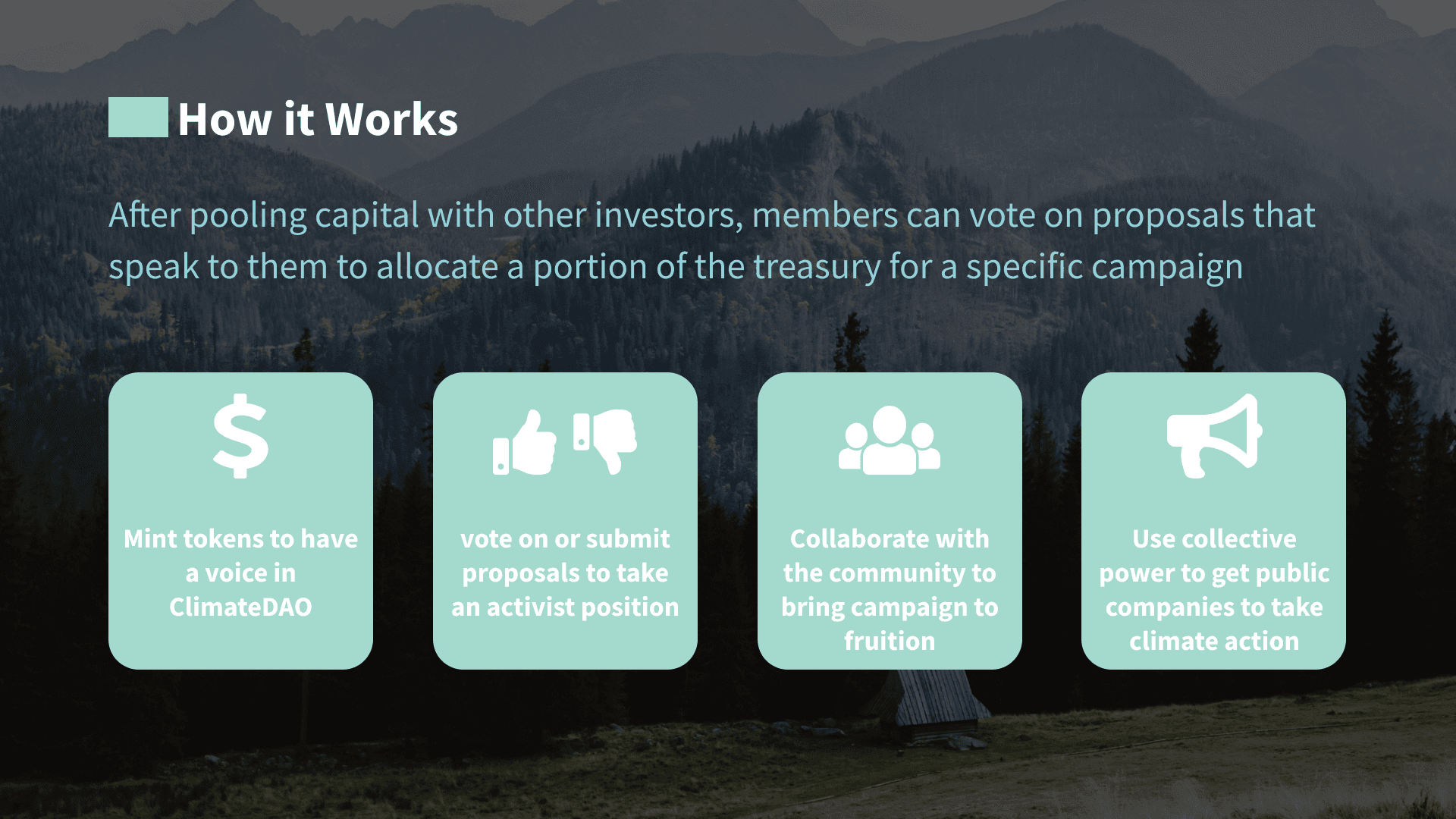 Some Inspiration
Since its founding, Exxon Mobil has released more than 40 billion metric tons of carbon dioxide into the atmosphere, making it the sixth largest corporate contributor of greenhouse gases in the world. With a 250 billion dollar market cap, Exxon is well-equipped to lobby against climate science, launch misinformation campaigns, and outlast bad press from the occasional oil spill.
Despite this, Engine No 1, an activist hedge fund, rocked the oil industry by placing three climate-focused directors on ExxonMobil's board. Through shareholder activism, Engine No. 1 got Exxon to scale back long-term oil production targets and account for the social cost of carbon.
At a high level, shareholder activism is when the owners of a company's stock, its shareholders, pressure management to change a company's operations. ClimateDAO was born to tackle climate change through shareholder activism. By purchasing shares in a public company, ClimateDAO will have the leverage to encourage it to take actions to mitigate climate change (divesting from fossil fuels, decreasing emissions, etc.)
What Engine No.1 did with Exxon was brilliant, but it's only the beginning. People can leverage their stock ownership and coordinate on a massive scale to align the actions of corporations with the values of the owners themselves. Companies have already started to align their actions with consumers' values, at least in theory. Poland Spring advertises 35% less plastic, Hershey Bars are Fair Trade Certified, Facebook donates to election integrity. Unfortunately, these efforts are often just for show and are not driven by the owners of the company, only the marketing department.
There's a long list of companies failing to recognize the urgency of climate action, prioritizing short-term financial gain over our collective long-term welfare. We're going to remind those companies who their owners are. Part of the beauty of DAOs is that the managers and the owners are the same people. Incentives are aligned and a more direct democracy can prevail. In other words, Public Companies are DAOs and It's Time To Ape.
Additional Details about the project:
Contributors to this crowdfund are helping to fuel ClimateDAO's operations, and for that we are immensely grateful.We will use funds raised here to develop the ClimateDAO platform and pay contributors, legal fees, and gas fees [more details here]. If you want to learn more about us check out our website and our white paper.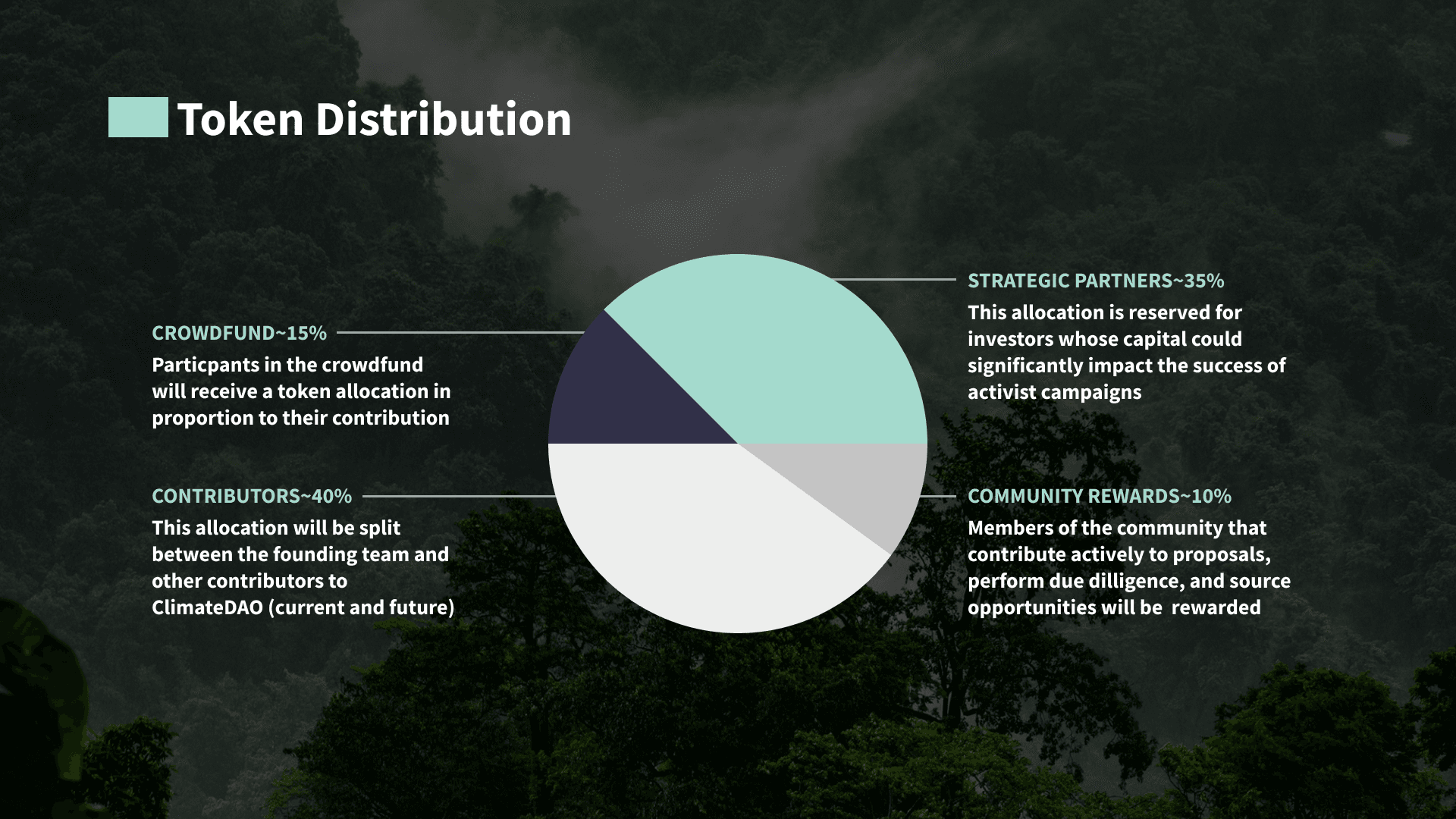 Accessibility and Inclusivity
For those who believe in our mission but do not have the financial capital to contribute, we are issuing a bounty. As we attempt to democratize investor activism for everyone affected by climate change, the last thing we want to do is leave anyone out of the loop. To be eligible for 100 $CLIMATE, participants may do the following:
Please submit a 1-3 page proposal that discusses a company that has failed to recognize the urgency of climate action. At ClimateDAO, we are looking for opportunities for activist campaigns at the intersection of reducing emissions and creating shareholder value. Propose a set of changes they could enact to both reduce emissions and create shareholder value. Send this via email to elliotzwaxman@gmail.com before the crowd fund ends with your ETH address to receive an airdrop.
Those who feel they have something to bring to the table: an event idea, a meaningful partnership, design assets for ClimateDAO, or other unique skills are welcome to contribute by emailing your thoughts to mrodgers616@gmail.com.
On Moonshots:
DAOs are still getting off the ground, as is this project. We wanted to keep this crowdfund brief, while at the same time being available to answer any and all questions that readers may have about ClimateDAO: its goals, operations, legal structure and everything under the sun. More details about the project are available in the white paper; otherwise, feel free to post questions in our discord.
DISCLAIMER:
THIS POST IS NOT INTENDED TO CONSTITUTE AN OFFER TO SELL, OR SOLICITATION OF AN OFFER TO BUY, ANY SECURITIES. ANY AND ALL SECURITIES REFERRED TO HEREIN HAVE NOT BEEN REGISTERED UNDER THE SECURITIES ACT OF 1933, AS AMENDED, OR UNDER APPLICABLE U.S. STATE OR FOREIGN SECURITIES LAWS. NEITHER THE SECURITIES AND EXCHANGE COMMISSION NOR ANY U.S. STATE OR FOREIGN SECURITIES COMMISSION HAS PASSED UPON THE ACCURACY OR ADEQUACY OF THE CONTENTS HEREOF. NO REPRESENTATION, WARRANTY OR ASSURANCE IS MADE REGARDING THE ACCURACY OF THE INFORMATION CONTAINED HEREIN, AND IT IS NOT INTENDED TO BE RELIED UPON BY ANY PERSON. THE INFORMATION CONTAINED HEREIN MAY NOT REFLECT SUBSEQUENT DEVELOPMENTS. NOTHING SET FORTH HEREIN IS INTENDED TO BE LEGAL, TAX OR FINANCIAL ADVICE TO ANY PERSON.
THE FORWARD-LOOKING STATEMENTS IN THIS PAPER ARE SUBJECT TO NUMEROUS ASSUMPTIONS, RISKS AND UNCERTAINTIES WHICH ARE SUBJECT TO CHANGE OVER TIME. THERE ARE MANY RISK FACTORS, INCLUDING THOSE RELATING TO BLOCKCHAIN AND CRYPTOGRAPHIC TECHNOLOGY GENERALLY, AS WELL CLIMATEDAO'S BUSINESS, OPERATIONS AND RESULTS OF OPERATIONS, THAT COULD CAUSE ACTUAL RESULTS OR DEVELOPMENTS ANTICIPATED BY US NOT TO BE REALIZED IN WHOLE OR IN PART OR, EVEN IF SUBSTANTIALLY REALIZED, TO FAIL TO ACHIEVE ANY OR ALL OF THE BENEFITS THAT COULD BE EXPECTED THEREFROM. WE RESERVE THE RIGHT TO CHANGE THE PLANS, EXPECTATIONS AND INTENTIONS STATED HEREIN AT ANY TIME AND FOR ANY REASON, IN OUR SOLE AND ABSOLUTE DISCRETION, AND, EXCEPT AS MAY BE OTHERWISE REQUIRED BY APPLICABLE LAW,  WE UNDERTAKE NO OBLIGATION TO UPDATE PUBLICLY OR REVISE ANY FORWARD-LOOKING STATEMENT, WHETHER AS A RESULT OF NEW INFORMATION, FUTURE DEVELOPMENTS OR OTHERWISE. ACCORDINGLY, WE RECOMMEND THAT YOU DO NOT RELY ON, AND DO NOT MAKE ANY FINANCIAL DECISION OR INVESTMENT BASED ON, THE STATEMENTS CONTAINED IN THIS PAPER --- INCLUDING BUT NOT LIMITED TO ANY SELLING OR TRADING OF  ETHER OR ANY OTHER CRYPTOGRAPHIC OR BLOCKCHAIN TOKEN, OR THE SECURITIES OF ANY COMPANY OR OTHER ORGANIZATION OR GROUP.